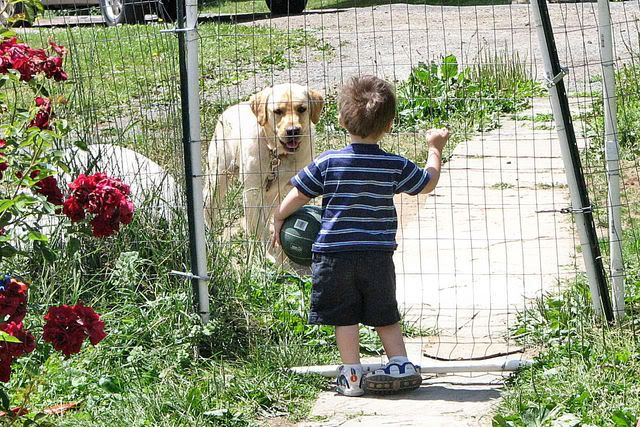 So I haven't had much in the way of my usual computer time recently since the holiday and Darling Hubby being home, but for today, I'm back. I missed out on my usual Weird, Wild and Wacky Wednesday post with pictures so I thought I'd post the good ones I got while visiting family this past weekend.

I only got 4 decent pics...hey, I should go with Corey's Four for Friday idea.

Anyway, Sunday we went down to Darling Hubby's sister's house in Deposit, NY. His brother Chris, wife Mindy and their 2 kids, Mikalla and CJ, were driving in from NM to pick up their new truck (in NC) and then getting their trailer that we helped pack in the middle of June. That was when Max had his Dumb Dog Moment. Apparently, the engine on the truck blew before Mindy left PA, hence the need for a new, more powerful, truck and another trip to NY. Anyway, we just had a little get together as a family and celebrated Darling Hubby's and his Step-father's birthday's.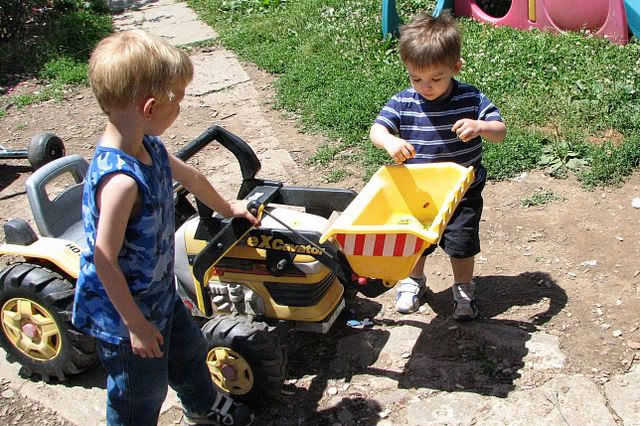 Bug had a blast playing with his cousins William and Alice. He really enjoyed playing with William's dump trucks and bucket loaders in the sand box and spent a good amount of time playing there by himself when everyone else was running around going nuts. Here is a picture of Bug filling up the bucket on this ride-on toy with grass he was pulling up from the yard.


He also enjoyed sitting in Uncle Chris' new truck. He actually said he wanted to go home with Uncle Chris when we told him we were leaving, mainly because he didn't want to get out of the truck. He even tried to put his seat belt on. At least he was thinking of safety! Guess we've got him trained.

And finally, here is my favorite picture that I took that day. Grandma wanted to get a picture of Bug while he was swinging, but he wasn't being very cooperative (hiding his face, scowling, you know, the typical toddler I don't want my picture taken routine). Daddy decided it would be funny to make faces at him to try to get him to smile and the little mimic that Bug has become (watch what you say, he's a parrot, too) decided to make faces right back. Silly boy!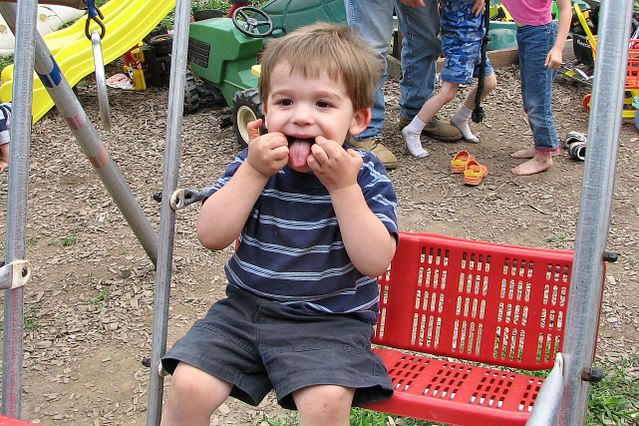 So, there you have a it. A little late, but still as good. I hope you've enjoyed the Friday edition of Wild, Weird & Wacky Wednesday!